Habitat's Master Homeowner Program
A unique education program creating successful homeowners.
Pre-register for our Fall 2023 Master Homeowner Program classes now.
Email us and we'll hold your spot. Pick one class or take the complete series.
View our Events Calendar to see our upcoming classes and workshops.
Curriculum Overview
The centerpiece of the Master Homeowner Program is a series of nine classes held weekly in Habitat for Humanity of Kanawha & Putnam's Homeowner Education and Community Center. In addition to the nine classes, Habitat also offers participants a separate nine-week financial and debt management course: Dave Ramsey's Financial Peace University.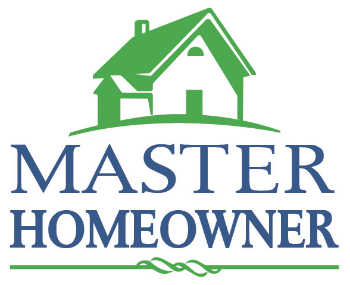 Classes Include:
Sign up for all Master Homeowner Program classes, or pick the class that is right for you.
Homeowner's Toolbox:
Homeowners learn what basic tools are needed for common tasks in and around the house and learn how to use the tools properly.
Home & Neighborhood Safety:
Homeowners learn to identify potential threats to their property and learn the best practices in reporting and deterring security risks.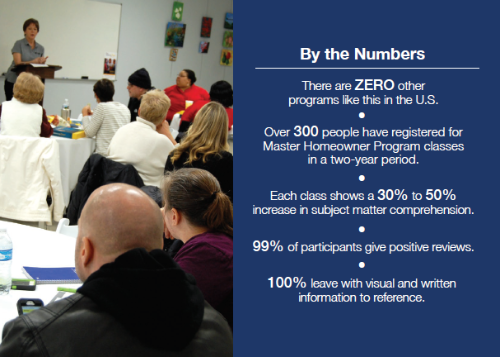 Neighborhood Relations:
Homeowners learn the importance of forming positive relationships with their close neighbors and the wider community, thus being empowered to improve their neighborhood.
Legal & Insurance Issues:
Homeowners learn from an attorney how to make the best insurance decisions, why estate planning is important and how not to become a victim of predatory lending. Homebuyers learn about the legal documents they will sign when they purchase a home.
Home Electrical Basics:
Homeowners learn the functions of a basic residential electrical system. This class teaches practical electrical safety, energy usage in the home and how to hire an electrician if one is needed.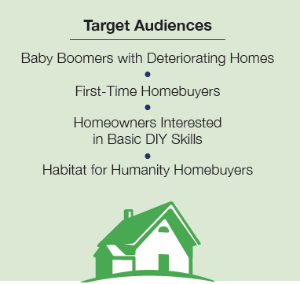 Basic Home Maintenance:
Homeowners learn why it is important to maintain their homes and the consequences if they do not. Students learn where to begin, what to look for, and in some circumstances how to perform maintenance that will keep the value of their investment intact.
Home Fire Safety & Prevention:
Homeowners learn the most common causes of house fires, how to prevent fires, and what to do in case of fire. This class teaches participants, hands-on, how to use fire extinguishers and properly place them in the home.
Basic Household Plumbing:
Homeowners learn how their home plumbing system works, where to check for leaks, and how to prevent clogs. This class identifies common problems with household plumbing systems.
Home Energy Efficiency:
Homeowners learn energy efficiency concepts, the advantages of controlling the conditioned air in their homes, and how to identify and eliminate energy waste.
Cost to Participants
In order to make the Master Homeowner Program available to a wide audience, there is a fee to cover the cost of printed materials pertaining to each class. Each class costs $15.
Classes are offered in two cycles per year. If you miss a class during the current session — and that's okay — you can request to be registered for the next cycle of classes by contacting the Program Coordinator. You will not be charged twice.
Program Evaluation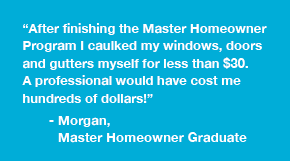 The Master Homeowner Program curriculum is evaluated after each cycle of classes using two evaluation methods: after-class surveys and comparison of pre and post-class test scores. It is the goal of the program to ensure that only effective instructors are utilized, and that all materials appear relevant to the participants. If instructors or class information is deemed sub-standard, improvements are made.
How the Master Homeowner Program Came to Be
The Habitat for Humanity of Kanawha & Putnam staff and Board of Directors committed itself in 2014 to offering the most comprehensive homeownership education possible. Not wishing to reinvent the wheel, Habitat's staff began reviewing commercially available education resources, but found all of them lacking. While there were many educational resources marketed under the general heading of "homeownership education," they were all primarily concerned with leading someone through the process of buying a home, covering topics like finding a realtor and securing a mortgage. The small amount of home maintenance training in those courses imparted very little practical information. After an exhaustive search, Habitat decided to create its own program. 
The development of the program began with the assistance of adult education professionals who helped Habitat staff understand the basics of adult education and the importance of a professionally designed and administered program. Realizing that no one on its staff had the requisite skills to design and run such a program, Habitat hired Janie Hamilton, who had a strong background in adult education.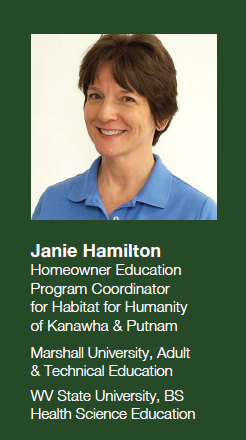 For more information on our classes, contact Janie Hamilton. 304-720-0141 ext. 18
Janie spent the the better part of a year developing the program from scratch. Working with an advisory panel that included individuals from disciplines related to homeownership and adult education, she established learning objectives and mapped those objectives to classroom instruction materials. Pre and post tests were developed to provide program effectiveness metrics. Nine key homeownership elements were identified as the core of the program. These were developed into classes that provide homeowners with the basic skills needed to maintain the condition and value of their largest investment: their home.
Recognizing that homeownership training could be a benefit Habitat could offer to the entire community – not just its own homebuyers – The Master Homeowner Program was opened in 2016 to allow any current or aspiring homeowner to participate. Most Master Homeowner Program participants have been people outside the Habitat for Humanity program.
View our Events Calendar to see our upcoming classes and workshops.