Rent Our Community Center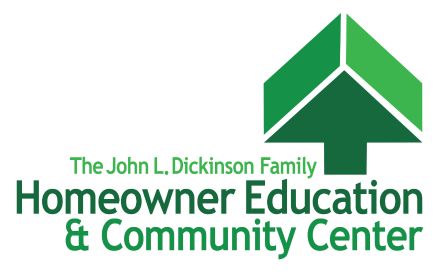 The primary purpose of the John L. Dickinson Homeowner Education and Community Center (HECC) is to provide an appropriate place to conduct homeowner education classes that Habitat for Humanity homebuyers are required to take. Classes are on a variety of topics meant to provide our homebuyers with the skills needed to become successful homeowners and are on subjects such as basic home maintenance, legal issues of homeownership and nine (9) weeks of financial literacy classes. 
Open To Our Community
A secondary purpose of the HECC is to serve the local community by allowing public and private use of the facility for workshops and affordable meeting space. The facility is open for rental use from 9am until 5pm Monday through Friday. Local groups are also encouraged to utilize the space for their meetings, presentations, and workshops. All funds acquired through the use of the room are then used by Habitat for Humanity of Kanawha & Putnam to help build safer, affordable homes in our community.
Facility Accommodations Include
Accommodates 200 people presentation style or 80 at round tables with a maximum capacity of 225

10 round 6' tables each seating up to 8

16 rectangular 6' tables

200 chairs

Projection screen and ceiling-mounted projector with a connected laptop and a built-in speaker

Whiteboard

Podium with optional amplification

Kitchenette (sink, refrigerator, coffee maker) and commercial washbasins

Wireless internet

Free parking for 80 cars

Local original art which changes quarterly (available for purchase)

Storage closets for groups with recurring events
---
The Details
Rules & Regulations

Rules & Regulations

Groups must leave room in the same condition and layout they found it, remove the trash, and sweep.
Liquor, firearms, drugs, animals, fireworks, and open flames are not allowed.
Organizations planning to serve beer or wine must provide proof of event insurance. Individuals renting the room are not permitted to serve alcohol.
The event and clean-up must be completed by 5:00 pm.
A credit card security deposit may be required. Security deposits will be refunded the next business day if no damage or extra cleaning is required.
Habitat is not responsible for loss or damage of any personal articles or equipment left in the room prior to, during or after any rental.

Rates

Hourly Rate: $30*     Non-Profit Rate: $20/hour*
*All additional fees apply.

Additional Fees:

Events serving food:

$30 for events with up to 50 attendees
$65 for events with 50 or more attendees

Events outside of normal business hours of 9-5, Monday – Friday:

$5/hour weekdays (Monday – Thursday)
$15/hour weekend (Friday – Saturday)
No Sunday rentals are allowed.
Set-up fee: $100

You are responsible for setting the tables and chairs to your specifications and returning them to the way you found them. If you prefer, Habitat staff will set up the room to suit your needs for an additional $100.

Payment

Payment and the signed contract are due within 2 weeks of making the reservation.

Payment can be made in the following ways (No Cash):

In Person: Check or credit card can be given with appointment to HECC Coordinator.
Mail: Checks can be mailed to Habitat for Humanity, 815 Court St, Charleston, WV 25301. Attn: HECC.

Payment cannot be taken over the phone or online. Cancellations must be made one week before event or payment will be forfeited.

Location & Parking

Location

The Homeowner Education & Community Center is located at 815 Court Street, Charleston, WV 25301.

Parking

The parking lot is located across from the Court Street entrance. Please avoid using ReStore parking lots during normal ReStore business hours of 9 am to 6 pm Monday – Saturday.

 
For more information or to reserve a date, contact Janie Hamilton. 304-720-0141 ext. 18