Build Community Through Service
We are God's hands and feet, here to serve others and show His love.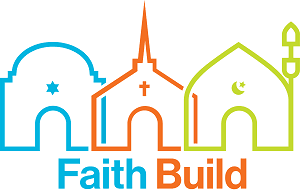 Habitat for Humanity of Kanawha & Putnam's most urgent need is always for your prayers. Second to that is the need for faithful volunteers ready to help our homebuyers build their future homes. Construction isn't for everyone though, and there are other ways to become a Habitat Faith Partner.
Habitat Faith Partners can contribute to Habitat's mission in several different ways, including:
organizing a Faith Partner Build Day! View our Volunteer Calendar and help spread the word and recruit volunteers, tell others how they can put God's love into action with Habitat for Humanity.
 
making lunch for the onsite volunteer workers or bringing snacks or drinks to the construction site. 

(view location in maps)


 
helping to guide our non-profit mission. Join a committee, or offer your professional skills to guide Habitat staff as they plan build days, recruit volunteers, and provide support to Habitat Homebuyers.
 
forming a prayer group and praying for the ministry, staff, volunteers, and homebuyers of Habitat for Humanity of Kanawha & Putnam. Pray with us. Visit our construction site and lead prayers for safety and fellowship as we work to serve God by serving others.
 
putting together a welcome basket or other special gifts for our Habitat Homebuyers and their children. Join us during their Habitat Dedication after construction is completed. Giving our homebuyers a hand up through prayer, and a small token of God's love is a wonderful way to become a Habitat Faith Partner.
 
taking up collections to donate to Habitat. Your financial support will allow Habitat to continue its work in Kanawha and Putnam counties. 
Volunteer as a Group
A Faith Build is when members of a religious group come together to help build a house in partnership with a local Habitat Homebuyer. It offers your church the chance to fulfill its mission of being Christ's hands and feet and allows your congregation to express their faith in a tangible way.
Volunteering puts God's love into action.
No experience is necessary to volunteer and all faith groups are welcome. We will teach you everything you need to know on the build site.
Contact our staff to become a Habitat Faith Partner
Learn More