Thursday, March 5, 2020
The Clay Center, Charleston
6:00 p.m.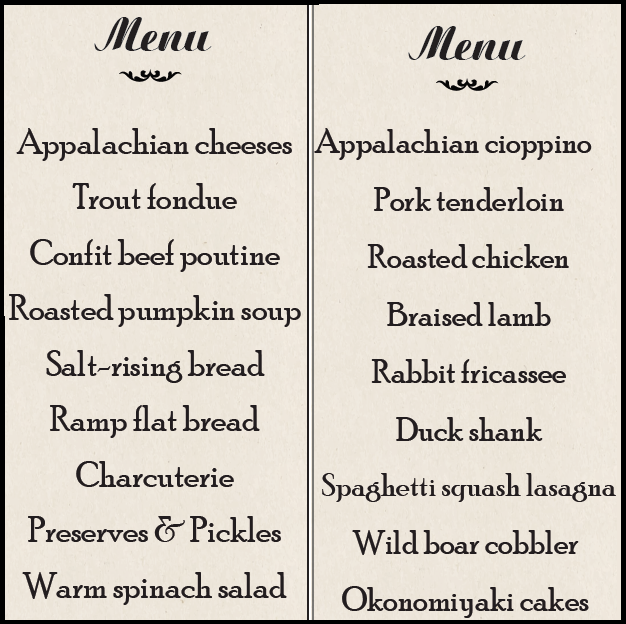 Habitat for Humanity of Kanawha & Putnam's annual fundraiser brings one of West Virginia's most talked-about restaurants to Charleston, giving you the chance to dine on some of our state's finest gourmet food. For our 2020 fundraising dinner, we're hosting Hill & Hollow of Morgantown at the Clay Center on March 5th.
Show your support for Habitat for Humanity and join us as we showcase award-winning Chef Marion Ohlinger's farm-to-fork Appalachian restaurant. Hill & Hollow will be serving up Appalachian dishes using ingredients sourced from local farms.
In addition, we have lined up a terrific musical act to pair with the modern Appalachian cuisine: "Chamberbilly" is a local group of musicians who play traditional Appalachian instrumental music with a modern twist.
Appetizers include trout fondue, confit beef poutine, roasted pumpkin soup, salt-rising bread, ramp flatbread, charcuterie, preserves and pickles, warm spinach salad, and local cheeses.
Entrees include Appalachian cioppino, brown sugar pork tenderloin, roasted chicken with alfalfa, braised lamb, rabbit fricassee, duck shank, spaghetti squash lasagna, wild boar cobbler, and buckwheat okonomiyaki cakes.
Desserts include pawpaw bread pudding, rhubarb crisp, mincemeat pie, and buttermilk pie.
All proceeds benefit Habitat for Humanity of Kanawha & Putnam.