Looking Back as Habitat Moves Forward
By Shawn Means
On July 1, 2021, a new executive director will take over the reins of Habitat for Humanity of Kanawha and Putnam County as I retire from the position after 27 years. I first announced my intention to retire last November so the board of directors would have adequate time to find the person to lead Habitat into the next chapter of its story, so I have had lots of time to reflect on the past nearly three decades and how Habitat has changed over the course of my career.
In 1994 I was serving as the board president of Habitat for Humanity, which was then called "Mountaineer Habitat." Then executive director, Bill Londeree, was the founder of the affiliate, and all of us on the board were stunned when he announced his intention to leave his position and relocate to Florida. And personally, I was stunned when he suggested to me that I take over his position.
I felt completely inadequate to take over for Bill, because for us on the board, Bill was Habitat. After I accepted the position and began working with him on a daily basis, my respect for him grew as did my own self-doubt. Bill took me around town and introduced me to key stakeholders and almost every one of them would instinctively look down at my feet and remark that I had big shoes to fill, something of which I was already very aware.
I still remember the day when Bill decided that I was trained enough to take over and he walked out the door for the last time. I felt a little overwhelmed and very alone.
I was alone. When I started as executive director I was the only administrative employee. Our annual budget was around $100,000 and the idea of having other staff to support the house-building mission seemed unrealistic. For the first two years I remained the sole person in the office, taking care of everything from answering phones to coordinating volunteers to writing grants to bookkeeping to mopping the floors to attending every committee meeting to sending donation acknowledgments, and oh, by the way, coordinating the construction of a bunch of houses each year.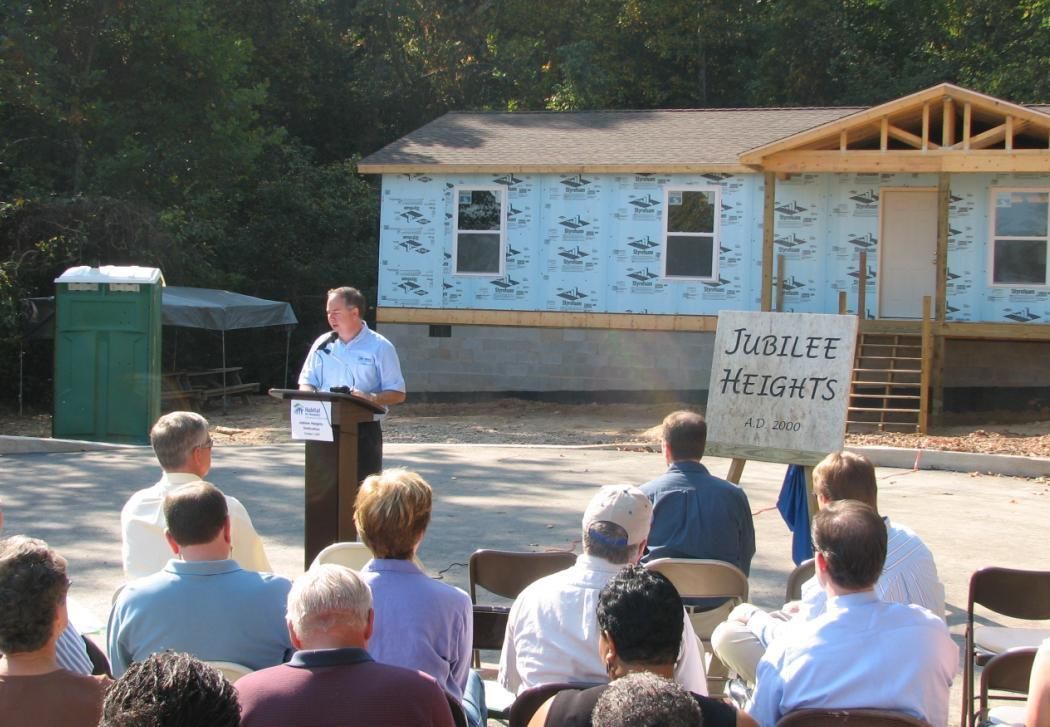 Shawn Means speaks during construction of Jubilee Heights in South Charleston in 2000.
It was all a bit much. One day at a lunch meeting, a friend – seeing that I was overwhelmed and over-worked -- suggested that I needed an assistant. Until that moment I had never dreamed of such a luxury, but as it turned out it was exactly what not only I needed, but also what Habitat needed.
I started reading about growing a staff of a nonprofit and quickly came to recognize the fact that organizations usually do not thrive until they begin to grow their staff and professionalize the work. That truth opened my eyes to the potential that Habitat held and the board of directors agreed to budget for a second office staff person. After seeing the immediate benefit of having the extra administrative manpower, it became clear to me that putting good people in charge of Habitat's most important work was necessary for it to serve more families and build more homes. Over the next few years, I created positions and found excellent people to fill them, and once Habitat began to professionalize key positions, it began to grow. After the executive assistant position, we added a person who would oversee the selection of our homebuyers, then a full-time fundraising manager. Next was a volunteer coordinator. Soon after we opened our first ReStore which required another commitment to staffing. The success of the ReStore brought the need for a business manager. By 2007 our staff included eleven full-time employees and six part-timers.
During this period of growth, our budget swelled from $100,000 to over $2.5 million and we were able to invest in our own facilities for the ReStore, administrative offices, and a warehouse for our construction activities which were building more and more houses each year. By the time we opened our second ReStore in 2018, Habitat employed a total of 28 people.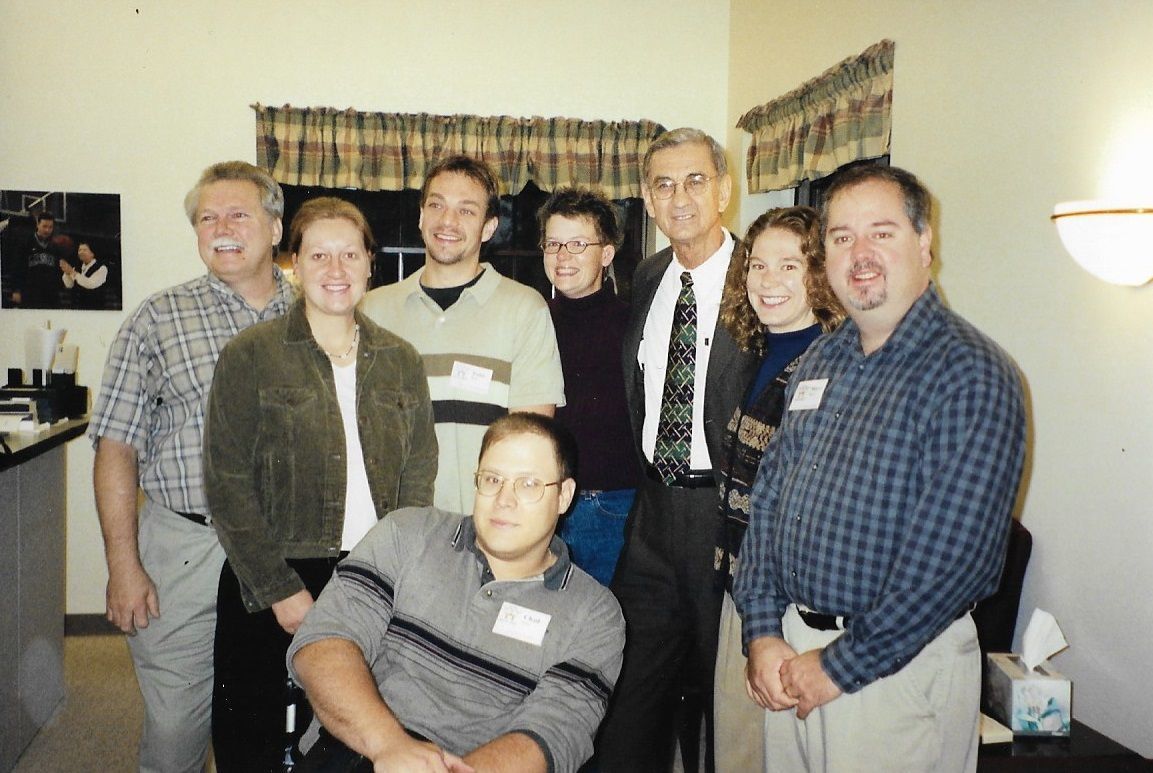 Local staff with Habitat for Humanity founder, Millard Fuller, in 2002.
"I didn't feel alone anymore."
Looking back on this period, though, it's not the staff growth or funding successes that I remember most, but the families for whom we worked. Folks who had a dream of homeownership and looked to Habitat as a way to accomplish their goal. I can't tell you when we received that first large grant from a donor, but I can sure remember the day when Brandon and his parents moved into their new home. I can remember everything about that day because Brandon had never lived in a home where he could freely move around in his wheelchair. I will always remember the smile on his face as he proudly showed people his brand new bedroom.
Brandon's story is one of over 150 that I have been privileged to be part of in these past 27 years. Today, as I stand in Habitat's conference room and look at the photos of all of the houses Habitat has built and the families that call them home, I can recall a story about each and every one. I can't help but think about the sweat and tears (and maybe a little blood) that went into the construction of every single one of them, some by the homebuyers themselves, some by the volunteers who helped them achieve their dream, and more than you would expect by the staff that supported the work behind the scenes.
As Habitat's staff knows, the wall where these photos hang is something I frequently have used to illustrate a point. Since the photos are in chronological order and start at the left end of the wall, that means the right end doesn't have any photos. That space, I often say during meetings, is where the photos of those homebuyer families we haven't yet met will be. It is for those people that we continue to raise money, mobilize volunteers, and keep the home fires burning so that when it is their time, they too can own a home and have their picture on our wall.
I've used that image for years as we have held staff meetings and board planning sessions in the room. We've talked about the day when the whole wall would be filled with photos and what we would do next, but somehow it never dawned on me that I wouldn't be around to see that happen.
But it will happen. Habitat will go on building houses and fulfilling the dreams of homeownership for those families it serves well into the future. As I move on to whatever retirement holds for me, I have confidence that the capable staff who has supported me for the past many years will continue the work of Habitat with their new leader, filling up that wall with photos and starting on a new one.
So, as June 30, 2021 approaches, so does the end of my career at Habitat for Humanity. I feel so very privileged to have been part of this life-changing organization for the past 27 years – 31 years if you count my time as a volunteer before I was employed. Its story has been my story for most of my life, and it will continue to hold a place in my heart long after I have moved into the next chapter.
Read More: