Habitat for Humanity of Kanawha & Putnam announces its new executive director.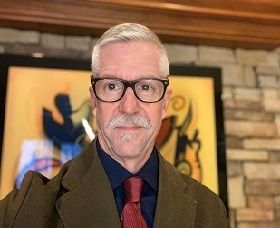 Dr. Andrew Blackwood will join the organization as its new executive director. Blackwood will assume the role held by Shawn Means for the past three decades. Means announced his retirement in January and will officially end his service on June 30.
In this senior leadership role effective July 1, 2021, Dr. Blackwood will advance the organization's local housing initiatives by providing overall strategic direction and management of Habitat's multiple programs, which includes oversight of: fundraising, construction, donor & volunteer relations, and daily office operations.
Blackwood has earned degrees from the University of Charleston, Virginia Tech, and West Virginia University in mathematics, psychology, and education leadership. His professional experience includes 13 years as a mathematics professor at WVU Institute of Technology and 16 years as executive director of the National Youth Science Foundation. While at WVU Tech, Blackwood was elected to two terms as chair of the Faculty Assembly, served on the WVU Faculty Senate, and coordinated the Regents Bachelor of Arts program.
"While my background is somewhat non-traditional, my diverse collection of experiences prepares me well to think resourcefully and unconventionally to build strong relationships that are well-suited for Habitat for Humanity and the community in which it serves," said Dr. Blackwood.
At the National Youth Science Foundation, Blackwood was the longest-serving director of the National Youth Science Camp. He led the effort to acquire and develop the National Youth Science Center near Davis in Tucker County, served on numerous state-wide STEM-education committees, and developed and implemented grants providing expanded STEM programs to students from throughout the state, across the nation, and around the world.
Blackwood has an extensive record of volunteer community service and is currently a member of the Board of Governors of Eastern WV Community and Technical College and the Board of Directors of the West Virginia Youth Symphony.
As a lifelong resident of the Kanawha Valley, Blackwood is excited and honored to be selected to lead Habitat for Humanity of Kanawha and Putnam. Blackwood says, "Access to safe and affordable housing is empowering and life-changing and Habitat has substantially improved the quality of life for many in our community."
Reflecting on the work of retiring executive director, Shawn Means, Blackwood says, "I have very big shoes to fill; with Shawn's thoughtful guidance over the last 27 years, Habitat has constructed over 150 houses, established two ReStore locations, and greatly improved the lives of many in our beautiful greater Kanawha Valley community. I am greatly humbled to be appointed as the next executive director of Habitat for Humanity of Kanawha and Putnam."