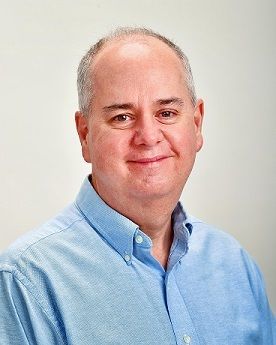 Shawn Means, long-time executive director of Habitat for Humanity of Kanawha & Putnam, has announced that he will retire in 2021. Shawn's last day with Habitat will be June 30, 2021 – 27 years to the day since he assumed the role of Executive Director. 
Habitat's Board of Directors has formed a hiring committee and is searching for Shawn's replacement. According to Board President Tim Paxton, the board expects to have the new Executive Director chosen by May 2021, and he or she will take the reins on July 1.
Shawn has spent his career making West Virginia a place to call home. He started volunteering with Habitat in 1989. "The more I involved myself, the more I wanted to be involved," he said. "Working for Habitat gave my life direction." He served as a construction volunteer and a member of the fundraising committee before he was elected to the Board of Directors. After serving as the vice president of the Board for two years, he was elected as President. Shortly thereafter, then Executive Director Bill Londeree decided to leave his post and Shawn was hired as his replacement.
During his time as executive director, Shawn worked to create housing opportunities throughout the Kanawha Valley and the state. He oversaw the construction of Jubilee Heights, a 29 acre subdivision in South Charleston that is now the location of 30 Habitat homes. Shawn also led the charge to develop 50 acres of land at North Hills Drive in Charleston. Construction continues there today as Habitat volunteers work to finish the development's remaining seven houses. Over his career Shawn has also served on numerous state and local governmental housing-related committees and boards, including the City of Charleston's Strong Neighborhoods Task Force, the Kanawha/Charleston HOME Consortium, and The Governor's (Underwood) Housing Task Force. He was also a co-founder of Habitat for Humanity of West Virginia, the State Support Organization for Habitat affiliates.
In 2006, Shawn was elected to the Habitat for Humanity International US Council. He served six years as a member of that policy-making and oversight panel. "My time on the US Council really helped me appreciate the national and international impact of Habitat for Humanity. It was an honor to serve in this role beside so many affiliate leaders from across the country," he said.
As Habitat's house construction continued in multiple areas around Kanawha & Putnam counties, Shawn sought new funding opportunities for the organization. He set out to establish the Habitat ReStore, the area's first retail store specializing in recycled building materials and construction supplies. "This was a really important part of Habitat's growth. It provided a sustainable funding source for our building program and raised the profile of Habitat in the community." The success of the ReStore in Charleston allowed Habitat to open a second location in Putnam County in 2016. 
The organization recently completed its 177th home in the Kanawha Valley. 150 of those homes have been built under Shawn's leadership. Today, Habitat and its two ReStore locations employ more than two dozen people. "I'm proud of the impact Habitat has made – and will continue to make -- on this community.  Making a significant contribution to the quality of life in one's hometown is about as much as one could hope for in a career." 
Shawn and his wife, Amy McLaughlin, are co-owners of Lafayette Flats Boutique Vacation Rentals in Fayetteville and he is looking forward to spending more time helping to grow that business. "I'm retiring from Habitat," Means said, "but I will be joining Amy in the work of managing and improving Lafayette Flats and that will keep me busy."
When asked for one thought that sums up his career with Habitat, Means said "Habitat gave me the opportunity to make a real difference in the lives of a lot of people. I will always be grateful for the experience."