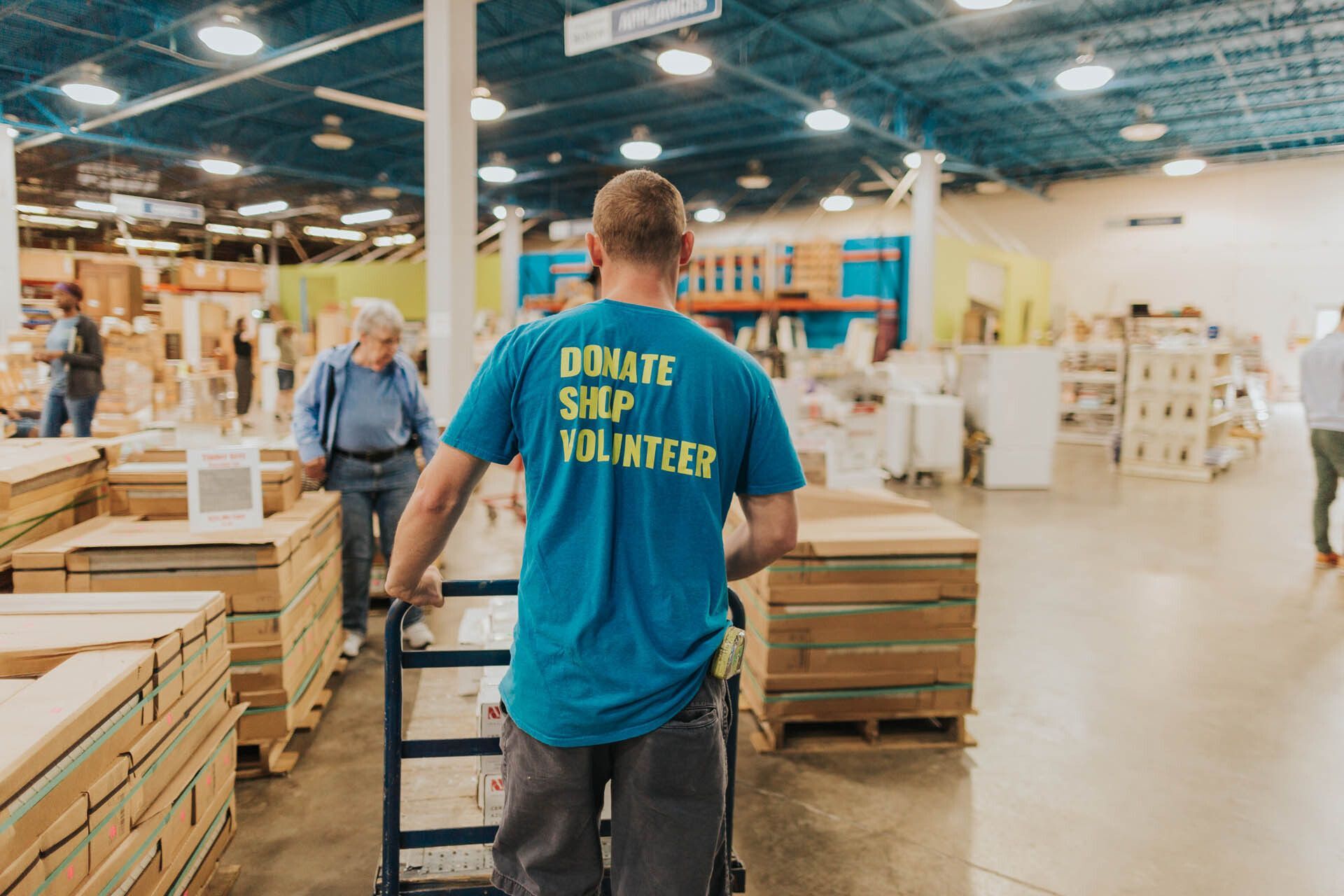 Are you a construction volunteer? If so, we challenge you to try something different as the cold sets in.
Volunteer at one of our Habitat ReStore locations!
A Warm Invitation to Our Valued Construction Volunteers
As the chill of winter begins to set in and the hustle of construction season winds down, Habitat for Humanity of Kanawha & Putnam invites it's dedicated construction volunteers to continue making a difference in a new, cozy setting. This winter, step inside and experience the heartwarming world of volunteering at our Charleston and Teays Valley Habitat ReStores!
Why Volunteer at Habitat ReStores?
A Continuation of Your Impact: Your efforts in construction have already transformed lives. By volunteering at our ReStores, you're extending that impact. Every sale in our ReStores helps fund our mission to build homes and hope in our community. Beyond that, your helping others give new life to their treasured goods and keeping those items out of the landfill. We call it sustainable volunteering.
Stay Warm, Stay Involved: Don't let the cold weather put a freeze on your volunteering spirit! The ReStores offer a comfortable, indoor environment where you can contribute meaningfully while staying warm.
Learn and Share Skills: Bring your construction expertise to the ReStore! Your knowledge in handling tools and materials can be invaluable in managing donations and advising customers on their DIY projects.
Be a Part of a Community: The ReStores are not just stores; they are hubs of community activity. You'll meet a diverse group of people - from fellow volunteers to customers and donors, each with a story to tell.
Holiday Cheer and Volunteering: The holiday season is a time of giving and what better way to celebrate than by giving your time? Bring cheer to shoppers looking for holiday deals and be a part of our mission-driven holiday spirit.
Your Role at the ReStores
As a volunteer, you'll engage in a variety of activities:
Assisting Customers: Share your expertise and help customers find what they need for their home improvement projects.
Organizing Inventory: Help manage donations, organize the sales floor, and ensure products are displayed attractively.
Processing Donations: Assist in receiving and sorting through donated items, an exciting opportunity to see first-hand the generosity of our community.
Easy Sign-Up Process
Ready to make a difference from the comfort of our ReStore? Signing up is simple! Visit hfhkp.volunteerhub.com to find available slots and join us. Whether you're looking to volunteer for a few hours or on a regular basis, every bit of help is cherished and impactful.
A Heartfelt Thank You
We want to extend a heartfelt thank you to all our construction volunteers for your hard work and dedication throughout the year. Your commitment has been instrumental in building homes and hope. Now, let's bring that same energy and compassion indoors to the ReStores.
Join Us This Winter
Don't let the cold weather slow your volunteering spirit. Join us at the Charleston or Teays Valley Habitat ReStores and help us continue to build a world where everyone has a decent place to live.
Sign up at hfhkp.volunteerhub.com and become a part of this fulfilling journey today! Together, let's warm hearts and homes this winter.
Volunteer, make a difference, and spread holiday cheer at the Habitat ReStore!