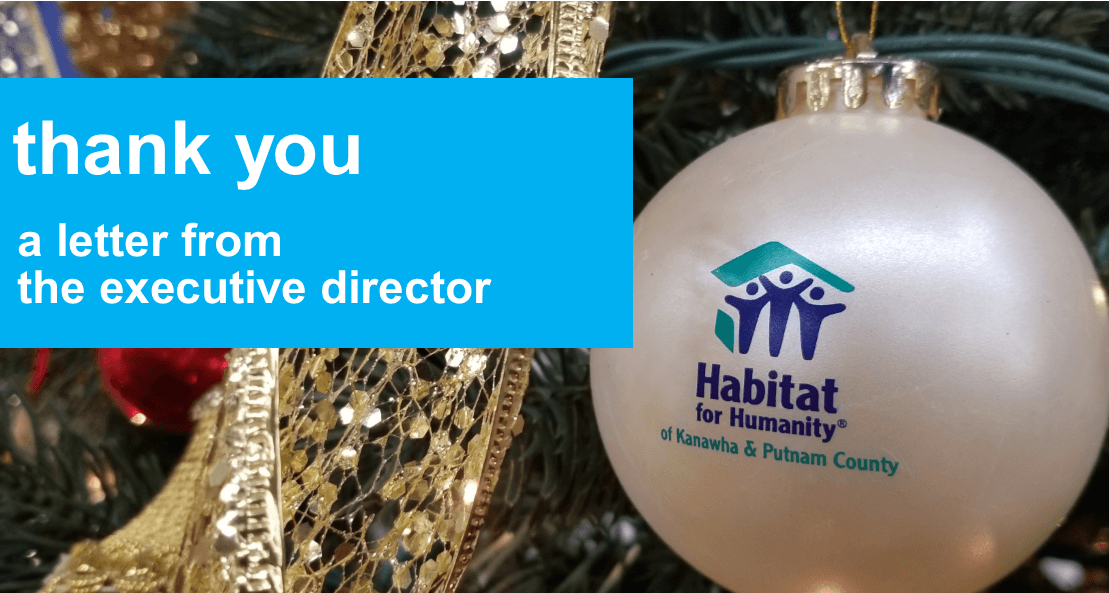 There is so much to be thankful for this holiday season.
With the help of hundreds of volunteers who together donated thousands of hours of labor, Habitat for Humanity of Kanawha & Putnam was able to construct three houses in 2022 for local homebuyers here in the Kanawha Valley. Each of these homebuyers completed a financial literacy program and Habitat's one-of-a-kind Master Homeowner Program where they learned about the fundamental responsibilities and maintenance tasks of homeownership. They have also invested hundreds of hours of sweat equity in building their own house or a house for others in our program. Our homebuyers do this because, like all of us at Habitat, we believe everyone deserves a decent place to live.
We are thankful for Habitat's staff.
Through their work, we are able to offer a hand-up to others in our community. With a record number of homebuyers in Habitat's program, it is clear that our work is more important than ever. Everyone should have an affordable home.
We are thankful for you.
This holiday season, we are also greatly thankful for the community members who have donated lightly-used household furnishings, leftover building materials, and other items to our two Habitat ReStore locations. The proceeds from the sales of these donated items are immediately used to purchase construction materials for the houses that we build here in Kanawha and Putnam counties. It also redirects tons and tons of materials that would otherwise be taken to a landfill or dumped illegally.
Finally, we could not do what we do for our neighbors without the generous support from our financial donors. We greatly appreciate the support provided by individuals and businesses who join in building homes, communities, and hope. This year, Habitat received two very generous donations from the estates of members of our community. For a non-profit organization like Habitat for Humanity of Kanawha & Putnam, every donation counts – no matter how large or small.
Thank you all.
Sincerely,
Andrew N. Blackwood, Ed.D.
Executive Director / CEO
Habitat for Humanity of Kanawha & Putnam