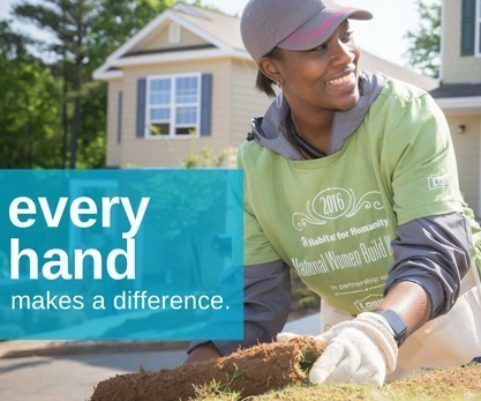 Our executive director, working with our volunteer board and program committees, is planning Habitat's future years in advance to meet and exceed our previous goals. We hope to build more homes this year, secure abandoned urban lots on which to build, and increase our organization's presence in Charleston and rural Putnam County. Our 2025 Strategic Plan is in the works.
Additionally - Habitat is once again accepting new homeowner applications from people - many just like you - who don't qualify for convention bank loans. They just need a little help. If approved, we help homebuyers build and finance a zero-interest mortgage. Our certified mortgage underwriter and homeownership director is ready to work step-by-step with the summer surge of housing applications.
Our marketing and communications manager is building up Habitat's local volunteer workforce - scheduling recurring and repeat volunteers, organizing local business and employee service days, and also orienting new Habitat volunteers to the process. Habitat's message stays the same, but the way we get our story out has to evolve. This month, you'll see new infographics and other materials that will help Habitat's staff meet with business leaders to explain our non-profit needs, solicit donations, and detail the positive impact companies see when their employees volunteer together. 
One last thing worth mentioning: Habitat's popular Team Build Days are back with new updates and incentives! For years, local businesses, churches, and civic groups have trusted Habitat to plan their annual volunteer service days. Now, many are taking time to get outside and give back together.
Our business operations manager is spending the month researching and applying for new grants and funding sources. Times are tough since we experienced a pandemic, but Habitat is resilient and our staff members are dedicated to helping others. Since November 2021, our business operations manager has secured nearly $100k in grants to purchase new construction materials.
Keep an eye on our Facebook Page, and give both of our Habitat ReStore locations a "like" while there - Charleston and Teays Valley. Follow us and see first-hand how Habitat is working with people like you to make West Virginia a better place to call home - for everyone. 
---