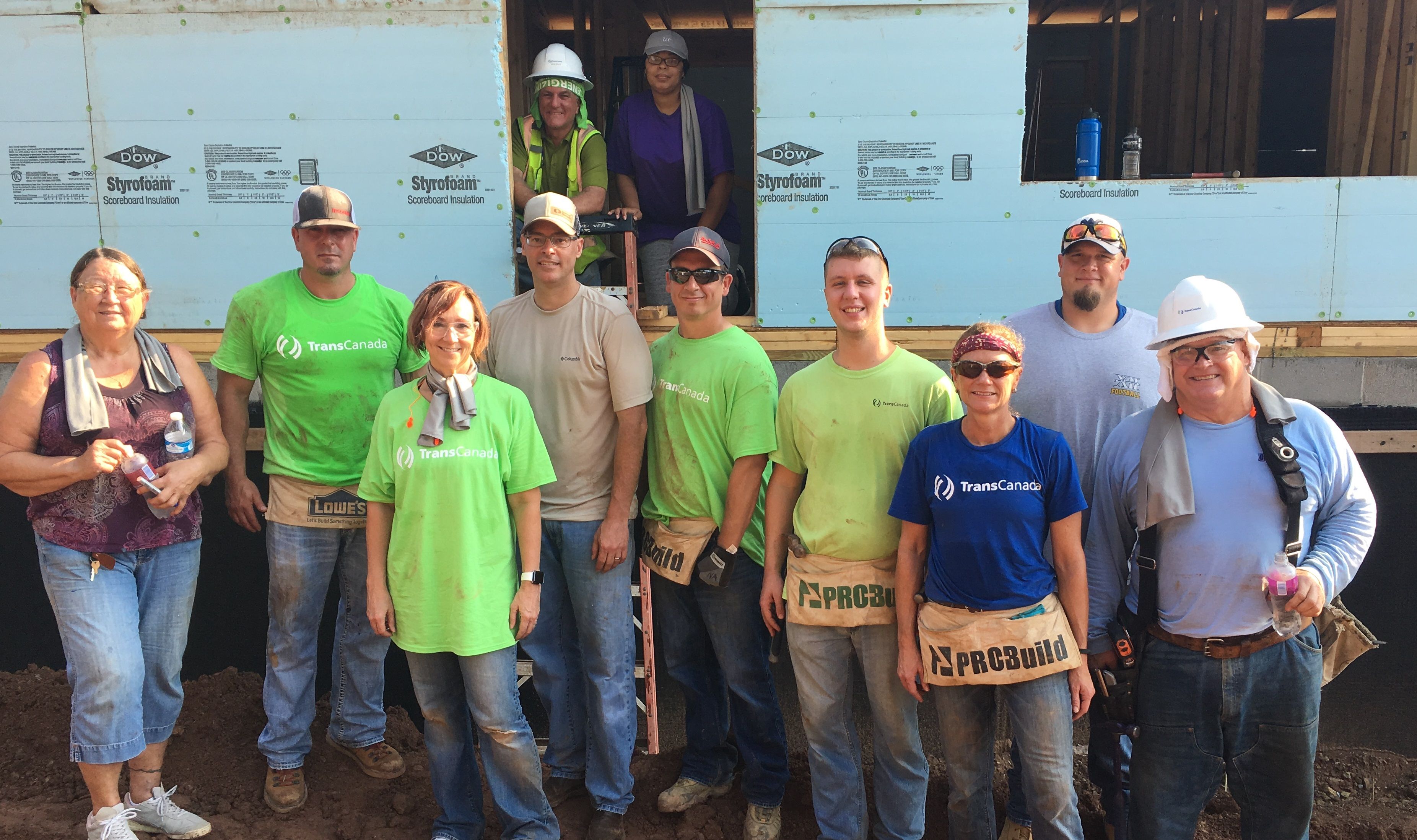 Have you been considering an inexpensive employee retreat? Are you searching for a way to build morale among your employees? Have you wondered how you can achieve more goodwill in the community? Habitat for Humanity of Kanawha & Putnam has a program designed just for your needs – Team Build Days!
Team Builds with Habitat for Humanity pro­vide a unique, fun and rewarding experience for any group. Team Build days are designed to improve employee morale through a full and inspirational day on our construction site. No previous construction skills are needed, and Habitat for Humanity will provide the tools and training you need for success. During an eight-hour day on the job site, your team will work alongside a partner homebuyer to help them build their home.
There is no donation required to organize or take part in a Team Build, but your organization does have the option of becoming a Habitat Sponsor -- making a monetary donation to cover construction material costs. Your team members and company will be featured on our website and social media platforms to showcase your dedication to ending sub-standard housing. 
Your workday will help your team:
·    Build and strengthen relationships
·    Create memories
·    Improve communication
·    Build trust
·    Develop leadership skills
·    Demonstrate your organization's commitment to community building
·    Foster goodwill by helping others
By participating with Habitat for Humanity for a Team Build, your team will play an important role in helping to break the cycle of poverty, strengthening our community, and building a brighter future for a local family.
Group Size:  A Team Build group should be made up of at least five volunteers and no more than 15.  We are generally able to manage larger groups with advance notice.
Location and Schedule: 841 North Hills Drive, Charleston. The workday begins at 8:00 am and ends at 4:00 pm.
Dates: Any Tuesday, Thursday, Friday or Saturday. Please provide us a date range and a preferred day of the week, and we will let you know what dates are open that match your availability.
Lunch: Lunch is a great time to take a break and learn more about Habitat for Humanity of Kanawha & Putnam. It is expected that your team will arrange to provide lunch on the job site for your group and any other volunteers that day. Please assign lunch duties to willing members of your team.
What to Wear/Bring: Habitat for Humanity builds in all weather conditions, so dress for the weather and wear layers. Wear sturdy, comfortable clothing that you do not mind getting dirty or stained. All tools and safety hats are provided.
Benefits of a Team Build Day
Foster teamwork among employees in an informal setting.
·    Get to know one another better
·    Challenge employees to trust one another
·    Breakdown barriers
·    Create new ways to relate to one another
·    Communicate more efficiently
·    Learn to work more closely with each other
Through a Team Build Day, your team will enjoy a fun‐filled day of construction on a Habitat worksite; all the while experiencing the opportunity of giving back to the community by helping a family's dream come true!
We schedule and track our volunteers through Volunteer Hub,  guiding you and your group through the process signing up and getting organized. Contact Trevor Anderson today to get started.