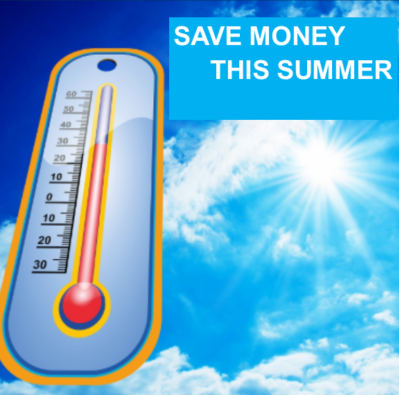 As the temperature continues to rise this summer, your power bill doesn't need to increase by extreme degrees too. Saving money is easy.
Here are some strategies from Appalachian Power to conserve energy and save money on your electric bill.
• Close the drapes on the sunny side of your home while you are there, or close all window coverings if you are leaving for the day.
• Turn off unnecessary lights and use energy-efficient fluorescent light bulbs, which use less energy and give off less heat.
• Seal air leaks with caulking and weather stripping, and minimize door traffic to keep the cool air inside.
• Use heat-producing appliances such as your dryer, dishwasher, and range during the cooler nighttime hours.
• Turn air conditioners to the highest comfortable setting to save money. Energy experts recommend 76 to 78 degrees Fahrenheit when you're home and 80 degrees while you are away. Adjusting your thermostat up a few degrees will have a significant impact on your cooling bill, saving approximately 30 percent on your summer cooling costs.
• Clean or replace your air conditioning filter monthly, or as needed.
• Keep coils on the exterior air conditioning unit free of dirt, grass clippings and leaves.
For more information about how you can save money and maintain your home for years to come -- check out our Master Homeowner Program -- designed to teach you the basic skills necessary to be a successful, lifelong homeowner.